02

03 04 05 15 16 19 20 21 22 23 24 25 26 27 28 31 32 33 34
I had so much fun with my finds this weekend. Of course, I always have fun when I'm thrifting, except when I don't find anything good. Okay, that's not true. The hunt is fun too.


Went out to a few sales on Friday and the first was tagged as an Estate Sale on Craigslist. It really was, too...which is always a nice surprise. Not a scraggly yard sale trying to puff itself up by calling itself an estate sale. The previous owner of the things I found had run a store out of her little shed and so I scored this lot of sign making supplies. Letters for DAYS!! Fun, fun, Etsy stuff.



The same sale yielded a few other fun finds. A metal industrial drawer from a small cabinet. One drawer only. I love finding things like this because most of the time the people running the sale are shaking their heads thinking "Why are we even trying to sell this thing??" and are further stymied when I buy it!! It usually leads to super low prices and this was no exception. Also a vintage Tiki vase and a small planter marked USA.



Then I hit a sale that yielded this FUN find.


A vintage, early 90s mobile cellular phone by Nokia. This thing is HEAVY. It's designed for a car, not to strap around your neck like I originally pictured. Love it! Also got some Levi 501s and a nice hardcover copy of The Princess Bride by William Goldman.


The next sale cracked me up because it was labeled "Man Sale" on the sign. Even though I already have a man, I decided to see what was up for offer. There was a small added sign that said, "Girl Stuff Too". As I walked up to the sale, the somewhat crusty man running it said, 'sorry, I don't have too many girly things.' I replied that it was okay, that I didn't mind. I'm thinking, 'I just bought vintage electronics...you'd be surprised'. But I was also spotting this silverplate chest and pieces on the other side of his driveway.
I beelined over and started looking at the loose pieces of flatware. The owner said, "Oh that's just the cheap plated stuff". I said, "Oh, I know, I just love looking at the patterns". Which is true. I have a silverplate collection that rivals my button collection. Can't pass it up.



Then I opened the chest and discovered this beautiful set by Rogers...with lots of extra serving pieces.


I asked him what he was asking for the chest and he said, "Give me $20 and you can have every piece of silver on that table!!" Including the dishes and loose flatware. I have never whipped out a $20 that fast in my life! He said he knew I'd appreciate it and it will clear up space in his garage. He also said I was his best customer so far!! At a MAN SALE.
I've done some research since I brought all this loveliness home. The set in the box is from 1940 and is called "Beloved". Sigh.
Then in all the 'cheap plated stuff' was this spoon.


I paid attention to it since it had the name "Olsen" and various hallmarks. One of the hallmarks shows its from Denmark and is sterling silver!! Score!!


I'll say it again...

F-U-N spells thrifting!!
(I haven't even gotten to the amazing estate sale I went to this weekend. Stay tuned later on this week!)
Linking up to: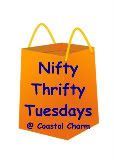 Labels: estate sales, silverplate, sterling, thrifting, vintage, yard sale

35 36 37 38